The number of May new pending sales (under contract, but not yet closed) was up 900 units from April. As the number of days between when a property "goes pending" and closes averaged 40 days, the new May pendings should drive up June closings.
The imbalance between the number of available listings and strong buyer demand continues to drive up values. Year-to-date, through May, the average closed $/SF is up 8% and average sale price is up 10% YTD compared to May 2016.

Southeast Michigan supply levels are about 1 month for properties under $300k. They are 2.4 months for $300k-$600k listings and 6 months for homes priced over $600k.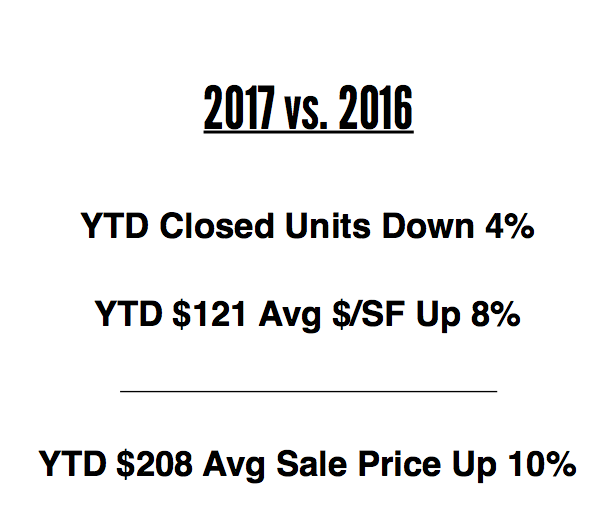 The big question is whether the number of anxious buyers ready to take the plunge will continue to exceed the limited supply of homes.
Moving forward, keep an eye on "months supply" of
inventory (number of listings divided by the number of pendings in the prior month). Falling supplies generally indicate the market is heating up. Rising supplies indicate it is cooling. Monitoring shifts in supply help us spot changing markets early.
In both 2015 and 2016 the number of closings and closed $/SF peaked in or around June. Over the next few months, keeping an eye on supply will provide and early indicator of near future shifts. Expect the timing of those shifts to vary within different geographic markets and price ranges.
MARKET TIME/PRICE RELATIONSHIPS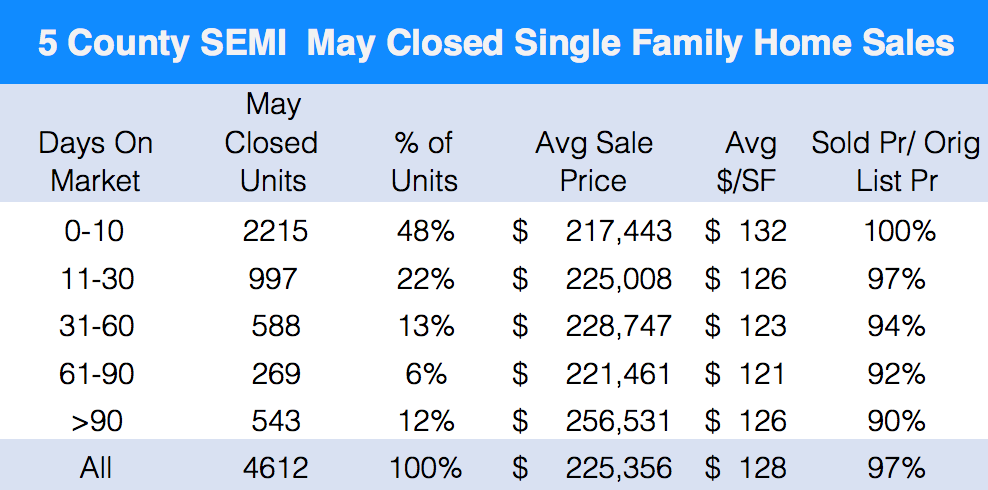 May closings for Southeast Michigan single family homes averaged 37 days on market and 97% of original asking price.

10 day or less sales: An amazing 48% of May closed sales were only on the market for 10 days or less (days between listing and pending in the multi list system).

The average sale price of the homes that lasted 10 days or less was 100% of asking price. Some sales were over asking, many at asking and some less than asking.

The average sale price of homes that sold in the first 10 days was less than the overall average, in part because there is more buyer competition for smaller homes—they tend to sell faster. But surprisingly, the $132 average $/SF of the 10 day or less sales was higher than averages for homes that took longer than 10 days.

In all price ranges, buyers are on the hunt and willing to pay more for homes that are in the best condition. They jump on them quickly and offer more to beat other buyer competition.

Over 90 day sales: Only 12% of the homes that closed in May were on the market for more than 90 days. While these sales had the highest average sale price, they sold for the lowest percent of original asking price. The average days on market for homes that took longer than 90 days to sell was 180 days and the average sale price was only 90% of the original asking price.

Five months into 2017, there are 1300 Southeast Michigan homes priced over $600,000 and only 505 closed sales. On a more positive note, there were 212 new May >$600k pendings.

It is typical for more expensive homes to take longer to sell because fewer buyers can afford them. To obtain the highest price in the shortest time, high-end sellers and their agents should closely monitor their competition and modify condition and price as needed.
In this seller's market, the goal in pricing should be to find the sweet spot— a bit toward the high end while staying low enough to attract buyer competition which will put a little extra icing on the cake.